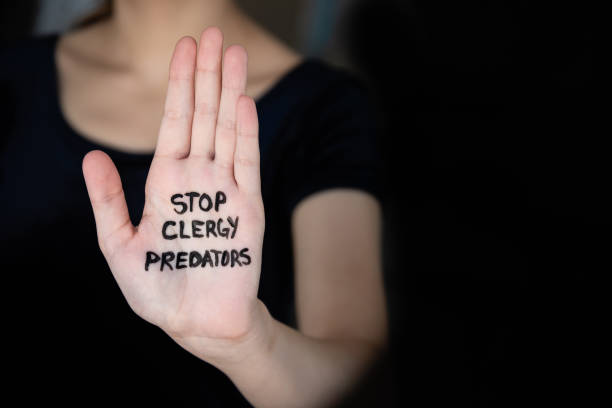 The Greek Orthodox Archdiocese (GOARCH), the Orthodox Church in America (OCA), and the Antiochian Archdiocese (AOCA) comprise the three major canonical Orthodox jurisdictions in the United States.
If you search "sexual misconduct" on the GOARCH website, you are taken immediately to a detailed Clergy Misconduct Policy revised in January 2022.
Using the same keywords on the OCA website, you are similarly taken to Resources for the Prevention of Sexual Misconduct. This page contains copious links to external websites and internal documents.
Notably, both GOARCH and the OCA provide—conspicuously displayed—an external toll-free number (as well as a link on the GOARCH website) for confidentially reporting clergy sexual abuse. Victims, witnesses, and confidants alike may make a report.
The same search on the AOCA website takes you to the June 6, 2018 "Regular Article 92," a  self-congratulatory announcement of the Archdiocese's first Loss Control Bonus from GuideOne Insurance Company. It explains, in part:
The GAP [Group Affiliation Program] also includes coverage enhancements that provides 25% more property coverage subject to a $1,000,000.00 maximum at no additional charge, unique coverage for iconography, Sexual Misconduct Liability, Directors and Officers (trustees) Liability, Religious Expressions Liability, and more.
This alarming absence of resources for the children, women, and men of the AOCA to protect themselves from, and report, clergy sexual abuse (including abuse by bishops) must be contextualized by the "investigation" into the sexual misconduct of the former metropolitan, Joseph Al-Zehlaoui, toward at least one woman under his spiritual and workplace authority. The hundreds of thousands of readers around the planet who followed the Al-Zehlaoui scandal on these pages will recall the "investigator"'s principal mandate: to advise on how the AOCA could safeguard itself from legal jeopardy. This fact, coupled with the grant of an honourable, comfortable "retirement" to Al-Zehlaoui (incidentally, we are told that he resides, not in his palatial country manor in Idaho, but in the Los Angeles chancery of the AOCA), makes clear that Antiochian Patriarchate and Archdiocese officialdom cares not a whit about the well-being of its faithful.
This callous disregard for the children, women, and men of the AOCA is further reinforced, as our readers will also recall, by Al-Zehlaoui's infamous attempt to reinstate convicted and incarcerated sex offender Demetri Matta Khoury to active episcopal ministry.
As we noted on November 12 on these pages:
The fact that…all messaging from Damascus and Englewood rings of "back to business as usual" leaves the most critical questions to emerge from these past three months unanswered…. Most importantly, what steps will be taken immediately to formulate and implement policies and procedures for responding to allegations of sexual and other abuse at the hands of the Archdiocese's hierarchs, clergy, monastics, and lay employees and volunteers? What assurances do the children, youth, women, and men of the Archdiocese have that their abuse will be handled more properly than this sad episode has exposed?
Neither the Patriarchate nor the Archdiocese has stated why Al-Zehlaoui "retired." So much for the Patriarch's promised "transparency." Orthodoxy in Dialogue alone has provided this information. Neither the Patriarchate, nor the Archdiocese, nor Al-Zehlaoui has offered a word of public repentance or of public apology to Al-Zehlaoui's accuser.
The Antiochian Church seems to want to pretend that these last three months never happened. They want to get back to normal. But there is no "normal" to get back to. "Normal" was an autocratic metropolitan who preyed with impunity on vulnerable married women in the Church, imagining he would never be called to account. "Normal" was an Archdiocese with no mechanisms for its children, women, and men to report hierarchal and clergy sexual abuse. "Normal" is what allowed Al-Zehlaoui to carry on his predatory affairs for the entire duration of his sacerdotal and episcopal career.
The faithful of the AOCA and all concerned parties, whether Orthodox or not, must flood Englewood with telephone calls, faxes, and emails demanding the institution of policies, standards, and procedures on sexual misconduct, adequate to the 21st century. Complete contact information for the AOCA administration can be found here.
Another Joseph Al-Zehlaoui must never be allowed to happen again.
For context see the Metropolitan Joseph: The Scandal section in our Archives 2020-22 linked at the top of this page.
Orthodoxy in Dialogue wishes our readers around the world a blessed and spiritually fruitful Nativity Fast.
Orthodoxy in Dialogue seeks to promote the free exchange of ideas by offering a wide range of perspectives on an unlimited variety of topics. Our decision to publish implies neither our agreement nor disagreement with an author, in whole or in part.
(Note that you must answer all three questions when you request membership in our Facebook group.)
Sign up for email notifications in the upper right column of this page.