The other day I sat down with a book—look, it's a lockdown, there's a lot of sitting down with books going on—in this case, Chasten Buttigieg's I Have Something to Tell You.
I feel like this book provided me with a lot of things, not the least a burning curiosity about Wisconsin.
Mostly I was amazed at how much this book instantly resonated with me, who was once a terribly confused autistic child who had never even heard of autism. I've never been able to experience that kind of feedback loop before; it was unexpected. Chasten Buttigieg's description of his own journey, the feeling of not-belonging, of feeling different, of knowing this being different was considered wrong somehow, immediately clicked with me, however different the reason. This book showed me a kid (I'm past 40 now, I get to call 18-year olds "kids") struggling to make sense of himself in this world, and the thought of someone seeking to hurt that kid was utterly repulsive.
While there was objection, revulsion, and awkwardness during my childhood and early adulthood [in the Netherlands] about LGBTQ people, beating them up in the streets would never have been acceptable. In Bible college, most people felt that threatening anyone gay with the fires of hell and all sorts of torture was not really what Christians should be doing. But it was still considered a sin. Gays weren't considered beyond saving, precisely, but they'd sure have to work a heck of a lot harder for it. We lost sight of the persons we were talking about, persons with hopes and dreams and struggles like anyone else. It became an "issue" to be discussed instead of people to be loved.
For a time, I thought that "being gay itself is not a sin, but they shouldn't be in any relationships and not live out that lifestyle because that is sinful" was an enlightened view—I suppose it depends on what you compare it with. I discovered years ago that this is not a logical or consistent view at all—and that the idea that I could tell anyone else how to live their life was arrogant in the extreme—but not until reading Chasten's book did I realize the magnitude and the sheer unreasonableness of demanding such a thing of people. To deny a life-partner to those who were not made for being single. Never marry, never have kids, never have a family even though that's your heart's desire. And not out of a calling to the monastic life, but because something about you is considered wrong and the punishment ("consequence," it's called, but really, it's a punishment) is not being allowed love.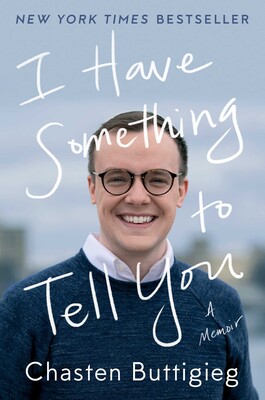 If someone is gay, the idea went, and if they want to be Christian regardless, then that's the sacrifice they have to make. It wasn't until much later that I realized a sacrifice can only be a willing and voluntary act from the person themselves; anything else is not a sacrifice, but theft. How dared we? How dared I?
Perhaps I didn't see it because I have no strong desire for a romantic relationship myself, and didn't realize what a huge thing it is to demand. I've long since let go of this particular view. But, my God, why in the world did I believe that, and what harm has that view done? I am so sorry I ever held it for true.
Why did I even believe it? You'd think that, if being gay and marrying a same-sex partner is the huge problem some Christians make it out to be, Christ would've been a little more clear about it in the Gospels. Like, maybe, mention it once or twice. He ignores this and several other issues considered vitally important to Christians nowadays in favour of constantly going on about loving God, and one another, and caring for the poor and the disabled, and welcoming the stranger, and being humble and kind and forgiving and all that. He even mentions that so much as wishing someone dead is a big no-no. But nothing on "if you love someone of the same sex you're in so much trouble."
One day Christ is going to ask what we've done. I'm not really an expert, but I'm guessing that "Well, we pushed the boats of refugees back into the sea to let them drown, and let the poor and disabled starve in the streets, so we could turn our attention to people who happened to be born with an attraction to the same sex, or happened to have problems with their gender identity. We incited violence against them and made it very clear that they, as inferior human beings unworthy of bearing Your image, weren't welcome" might not exactly be the desired answer.
It's not always easy, with autism, to be able to see enough of the mind and heart of others to connect to them, especially through a book. It's not always easy, with or without autism, to truly understand what our words and prejudices do to others. It is a great gift when an opportunity arises to do that. I'm deeply grateful to Chasten for his openness and vulnerability that allowed for it.
Monica Spoor is an Orthodox Christian and the author of Spirituality on the Spectrum: Having Autism in the Orthodox Church. She holds a Bachelor of Theology from the Evangelische Theologische Hogeschool in Ede. She also volunteers with special needs children, does translations, and serves as secretary of the regional advisory board for the department of welfare. She has written previously for Orthodoxy in Dialogue, blogs at Dark Side Monologues, and tweets @MonicaSpoor. She resides in Veenendaal, the Netherlands.
Orthodoxy in Dialogue seeks to promote the free exchange of ideas by offering a wide range of perspectives on an unlimited variety of topics. Our decision to publish implies neither our agreement nor disagreement with an author, in whole or in part.
Please click here to learn how to help Orthodoxy in Dialogue feed the homeless on Christmas.
See our Patrons page for how to become a monthly, occasional, or one-time supporter of Orthodoxy in Dialogue's work.
Sign up for email notifications in the upper right column of this page.
Visit our Books to Read page often for new listings.
A blessed Nativity Fast to all our brothers and sisters in Christ around the world!