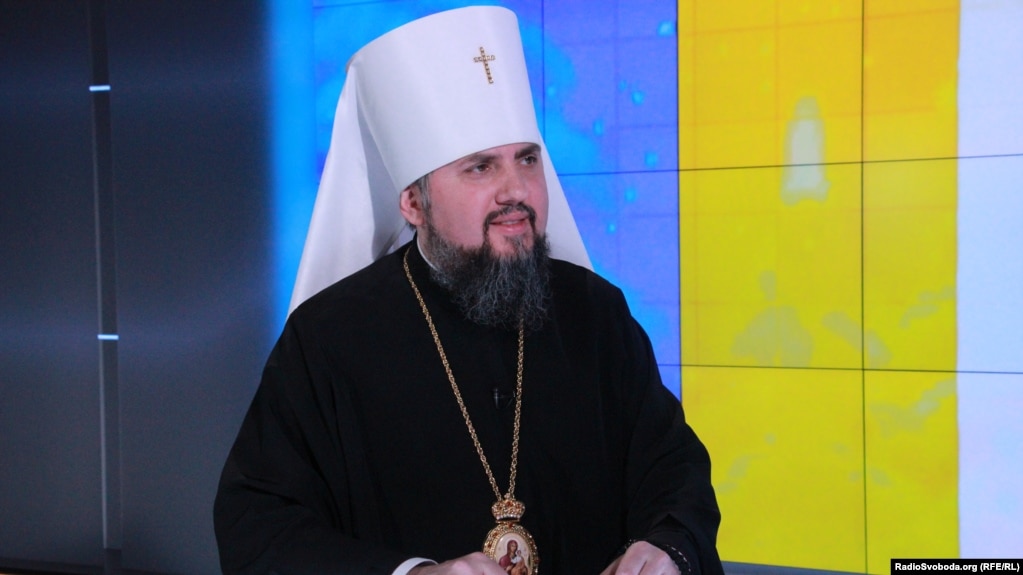 Metropolitan Epiphanius of Kyiv and All Ukraine
Some 600 parishes in Ukraine belonging to the Orthodox Church aligned with the Moscow Patriarchate have in one year switched over to the newly formed Orthodox Church of Ukraine, the latter Church's leader says.
The new Church's first Primate, Metropolitan Epiphanius, told RFE/RL in an interview over the weekend that he foresaw another "wave" in the future of "such massive transfers."
However, "we want them to continue to be peaceful, calm, and voluntary…we do not need confrontation," he said.
The Ukrainian Orthodox Church–Moscow Patriarchate doesn't recognize and opposes the Orthodox Church of Ukraine, which was granted autocephaly in January 2019 by the Patriarchate of Constantinople in Istanbul.
The move ended more than 300 years of control by Moscow.
Epiphanius was installed as the new Church's Primate on February 3, 2019 after an election by high-ranking clergy in Kyiv.
In November 2019, the Patriarchate of Alexandria in Egypt recognized the autocephaly of the Orthodox Church of Ukraine. A month earlier, the leadership of the Church of Greece extended its recognition.
This brief report appeared with a different title at RadioFreeEurope/RadioLiberty on January 6, 2020, Christmas Eve in Ukraine and the 1-year anniversary of the autocephaly of the Orthodox Church of Ukraine. Orthodoxy in Dialogue has made a few minor edits for clarity, stylistic consistency, and proper ecclesiastical nomenclature.
We greet our brothers and sisters in Ukraine with the joyous proclamation:
Христос народився! Славімо Його!
Orthodoxy in Dialogue seeks to promote the free exchange of ideas by offering a wide range of perspectives on an unlimited variety of topics. Our decision to publish implies neither our agreement nor disagreement with an author, in whole or in part.
Click

 Here 

to Learn How to Become a Patron of Orthodoxy in Dialogue