For context see both the Metropolitan Joseph: The Scandal section in our Archives 2020-22 and Teresa Hartnett's articles on clergy sexual abuse in the alphabetical section of our Archives 2017-19 linked at the top of this page. The author of the present reflection is an Orthodox woman in her 30s who has asked that her identity not be published due to the sensitivity of her personal testimony. The particularities of the Metropolitan Joseph Scandal have not occurred in isolation, but point beyond to the pervasiveness of clergy sexual abuse specifically and spiritual/pastoral abuse more generally. We are appalled to note how many of the faithful blame the women involved in the Metropolitan Joseph Scandal, deride Orthodoxy in Dialogue for seeing them as victims, and somehow see Mr. Al-Zehlaoui as the victim.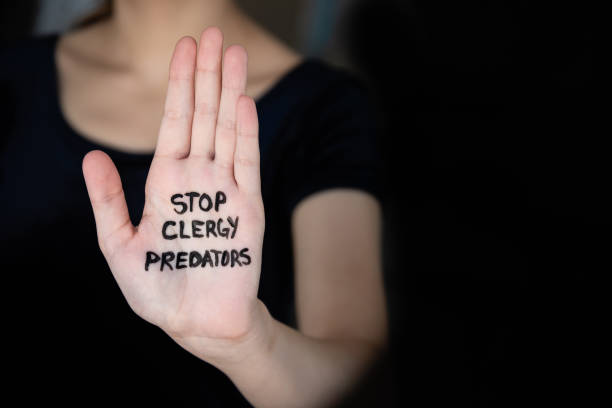 In the 1990s, the previous incarnation of the Assembly of Canonical Bishops, SCOBA, organized a subcommittee to address sexual misconduct within the Orthodox churches. The subcommittee convened meetings and returned recommendations, including detailed descriptions of seminary coursework or continuing education units that should be required of all Orthodox seminarians and clergy in any jurisdiction. The members wanted to raise awareness and develop sensitivity around the issue of sexual abuse, in the areas of both prevention and responses to survivors.  One course, titled Clergy & Ministerial Sexual Misconduct, was to include an Orthodox understanding of personhood, sexuality, power and authority, and issues of vulnerability, with emphasis on practical experience. The training was to be mandated and documented.
However, these recommendations were never implemented. There are clergy currently serving who graduated seminary with zero instruction in maintaining boundaries or in the nature of sexual abuse. There are clergy currently serving who believe that, when a fellow member of the clergy violates a female member of his flock, this is an "affair." There are clergy currently serving who believe that a scandal is created when a female survivor steps forward, not when she is sexually violated by clergy.  
The subcommittee recommended that survivors reporting sexual abuse in the Orthodox churches be responded to by trained social workers in addition to clergy. It is not uncommon for survivors who may be emotionally ravaged to turn to church leaders before reporting to law enforcement. Given the nature of sexual abuse by a religious leader, a survivor may be confused about his or her role in the abuse, and may even self-blame at the time of the disclosure. It is common for a survivor to disclose with blunted affect—for there to be a disconnect between words and inward emotional turmoil. It can take years to be able to digest in even the smallest way the horror of what one has endured. Disclosures will be messy, untidy. Don't expect full comprehensive statements with a timeline from someone who has experienced betrayal by a spiritual leader. There needs to be some level of care during and immediately following a disclosure.   
If a survivor in the Orthodox Church first reports to clergy, an attorney is generally the next point of contact by church authorities—an attorney trained to protect the financial interests of the church (small c) but not the body of the faithful, the Church.  Parishioners are not generally notified of accusations against clergy, nor are additional possible victims, some of whom may be suffering in silence. Survivors of sexual abuse in Orthodox churches know the experience of being stonewalled by church attorneys.  We need more transparency about accusations.
It should never be incumbent upon a survivor to disclose his or her trauma, to educate leaders, for reforms to happen.  The #ChurchToo movement seemed to pass the Orthodox world by with very little disruption, but not because this is not happening in our churches.  We know that this happens in every church. For those who ridicule #ChurchToo—what is the concern with looking at our policies and enacting changes that protect the most vulnerable in our communities, including adults? What seems un-Christian about demanding accountability and transparency, both of which are needed for healing to occur within a community devastated by sexual abuse?
Instead of welcoming survivors, attempting to bind their wounds, we often ravage them within the Orthodox churches—we do not listen to their stories, we blame them for their abuse, we insist that they asked for it or should have known better, we rally behind their abusers, enabling them to keep their positions of authority, or we quietly enable their abusers to continue serving elsewhere. We issue petitions asking for the reinstatement of abusers with very little evidence of any innocence. We will support an abuser's wife, and even children if he had them, picking sides with a party connected to a church, appearing to align ourselves in a direct way against a survivor, whom we do not offer to help in any meaningful way. The burden of proof falls to the survivor, whom we often disbelieve and blame for her mistreatment by clergy. We tell stories about women who "go after" clergy, failing to understand the trauma that a survivor endures when a Spiritual Father trespasses emotional boundaries, not to mention sexual boundaries. We don't understand that predators groom their victims, nor do we want to understand. We might stop and bend down to look, but we ultimately pass by on the other side of the road.   
I have firsthand experience with these things as a survivor of sexual abuse by a priest. My experience took place when I was in college, on the threshold of young adulthood, by a priest who was known for these types of things in hushed circles in other parishes. In my parish he could do no wrong—he was beloved. He felt like a father to me. The abuse was devastating. My disclosure, to a priest, was messy. His response was lacking. There was no follow-up or anything resembling pastoral care. I was not directed back to the Church as a hospital, to Christ as the Physician; rather, the church seemed to become a bureaucratic courtroom with no healing available. The abusing priest blamed me and lied about me, sharing things that I had privately confided in a man I believed to be my Spiritual Father. When the church attorney arrived, he audaciously heard my confession. Again, there was no follow up. I floundered on my own. The priest later told me that he had cheated on his wife even during seminary and abused other women in other parishes. (To this day there are clergy who choose not to believe this.) From the pulpit, a congregation was told to pray for their priest while he experienced some medical issues. I was traumatized. My name was dragged through the mud; the abuse understood to be my fault. For years I couldn't even contemplate what repentance even meant, and the abuse continued.
This is incredibly common for adult survivors. Abuse can continue for years. The only reason that this priest was ever eventually laicized, which I believe protected additional Orthodox women from harm, is because I opened my mouth and told someone what he had done. He never would have told on himself. Yet the backlash I received in telling was as though I was the perpetrator of harm. Why do we protect our clergy in this way?
We can and we should do better, and this starts with recognizing where we are getting things wrong. When clergy prey on a member of their flock, any member of their flock, it is not an affair—it is abuse. We need to stop heaping heavy burdens on survivors, many of whom have entrusted clergy with their wounds, believing that they will receive spiritual care, and only receiving further wounding. Those who speak out, myself included, do so out of love for the Church, not out of hatred or animosity.
Orthodoxy in Dialogue needs your support to continue our important work.
Please consider becoming a Patron through a one-time, occasional, or monthly contribution of any amount.
Instructions are found at the bottom of our Patrons page.
Orthodoxy in Dialogue seeks to promote the free exchange of ideas by offering a wide range of perspectives on an unlimited variety of topics. Our decision to publish implies neither our agreement nor disagreement with an author, in whole or in part.
Sign up for email notifications in the upper right column of this page.
Check our new GoFundMe to help a homeless gay married couple in Toronto get into suitable winter clothes for the frigid months ahead.