Editor's Preface
I lived in the Canadian prairie provinces as a university student and seminarian from 1973 to 1976, and as a priest from 1989 to 2001. Wide swaths of countryside in Manitoba, Saskatchewan, and Alberta have so many Orthodox and Eastern Catholic church structures, in various states of repair and disrepair, that you find it easy to imagine yourself mystically transported to 19th- and early 20th-century Eastern Europe.
These churches are not only Ukrainian: a smaller presence of Romanian Orthodox churches stretches from the Roblin-Russell area in northwestern Manitoba to the Kayville-Assiniboia area in southern Saskatchewan, close to the Canada-US border. I spent most of my priesthood surrounded by Ukrainian churches such as those pictured below while I ministered to the children, grandchildren, and great-grandchildren of Romanian immigrants who arrived in Canada to homestead between the 1890s and the 1910s. The Ukrainian Orthodox church in Wroxton sits a short 15- or 20-minute drive from my last parish. My family and I passed it all the time to and from Yorkton, the closest major shopping destination an hour from our home. 
Unremarked in the text below, Orthodox Slavs who immigrated from Austro-Hungary or Poland to Canada during the period in question were served by the existing North American diocese of the Russian Orthodox Church. The parishes they founded over 100 years ago now belong, for the most part, to the Archdiocese of Canada of the Orthodox Church in America (OCA). The much larger Ukrainian Orthodox Church of Canada—canonical for only some 30 years now—has its roots in the return from Uniatism to Orthodoxy for the same reasons that motivated St. Alexis Toth and his followers, i.e., the Vatican's prohibition of married clergy outside of the Unia's original territories.
Giacomo Sanfilippo, Editor 
Approximately 170,000 Ukrainians from the Austro-Hungarian crownlands of Galicia and Bukovina (Bukovyna) arrived in Canada from September 1891 to August 1914. The vast majority settled in the prairie provinces of Manitoba, Saskatchewan, and Alberta, where they obtained land to farm.
Few of the early immigrants would have called themselves Ukrainian, but rather identified themselves as Galicians, Ruthenians, Hutsuls, Lemkos, or Bukovynians. Most Ukrainians from Galicia, including Ruthenians, Hutsuls, and Lemkos, were Greek Catholic, while those from Bukovyna were Greek Orthodox. 
The first Ukrainian church built by these early settlers was St. Michael's Orthodox church in Gardenton, Manitoba, in 1897. The following year in Star, Alberta, the first Ukrainian Greek Catholic church was built.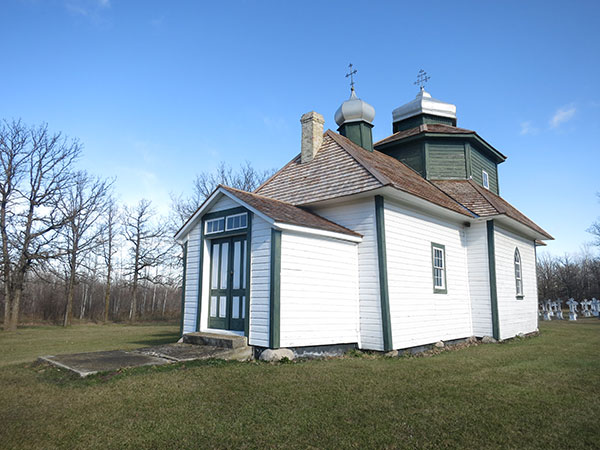 Old St. Michael's Ukrainian Orthodox Church (October 2015). Source:
Gordon Goldsborough
"While the first Ukrainian parishes built similar structures regardless of whether they were Catholic or Orthodox, the churches in Canada began to differ from those in the old country from the beginning. Building materials were not always the same. The styles of the local Roman Catholic and Protestant churches influenced Ukrainian church designs. The Canadian climate required some architectural adjustment. Few Ukrainian immigrants had significant experience in church building and few understood the theological significance of church architecture. But the immigrants were eager to have churches and many were built well before a priest was available." (Ukrainian Churches of Canada)
As a result, many of the early churches, even though aspiring to the designs of Ukraine's wooden churches, were basically log cabins with few decorations. Only later did churches become more decorative, especially those built in the "prairie cathedral" style of Father Philip Ruh, which combined Byzantine and Western influences.
On the whole, no one particular style of Ukrainian church architecture emerged in Canada; instead, there are many styles, which themselves tend to be hybrid varieties.
***
Today, hundreds of Ukrainian churches dot the Canadian prairies. Some are still functioning, but many are abandoned.
Fortunately, especially for those who don't live in the region, there are Facebook groups devoted to documenting this vanishing architectural heritage, such as the group Ukrainian & Other Unique Prairie Churches. There is also a wonderful online resource about the history and architecture of Ukrainian Churches in Canada. Also worth mentioning is The Sanctuary Project, which aims to document Byzantine rite, primarily Ukrainian, sacral culture on the Canadian prairies.
Continue reading and enjoying the photo album at Forgotten Galicia.
Orthodoxy in Dialogue publishes this excerpt in collaboration with the author. See the extensive Ukraine section in our Archives 2017-19 and Archives 2020.
Areta Kovalska was born and raised in Chicago, and moved to Lviv, Ukraine in 2011. She is the founder of Forgotten Galicia. 
Orthodoxy in Dialogue seeks to promote the free exchange of ideas by offering a wide range of perspectives on an unlimited variety of topics. Our decision to publish implies neither our agreement nor disagreement with an author, in whole or in part.
Sign up for email notifications in the upper right column of this page.
Click 

Here 

to Learn How to Become a Monthly, Occasional, or One-Time Supporter of Orthodoxy in Dialogue!