As a living art that has existed for more than 2000 years, Byzantine chant is a significant cultural tradition and comprehensive music system forming part of the common musical traditions that developed in the Byzantine Empire.
Highlighting and musically enhancing the liturgical texts of the Greek Orthodox Church, it is inextricably linked with spiritual life and religious worship. This vocal art is mainly focused on rendering the ecclesiastical text; arguably, the chant exists because of the word ('logos'), since every aspect of the tradition serves to spread the sacred message.
Passed on aurally across the generations, its main characteristics have remained the same over the centuries: it is exclusively vocal music; it is essentially monophonic; the chants are codified into an eight-mode or eight-tone system; and the chant employs different styles of rhythm to accentuate the desired syllables of specific words.
Though the Psaltic Art has always been linked to the male voice, women chanters are common in women's monasteries, and women participate in parishes to some extent.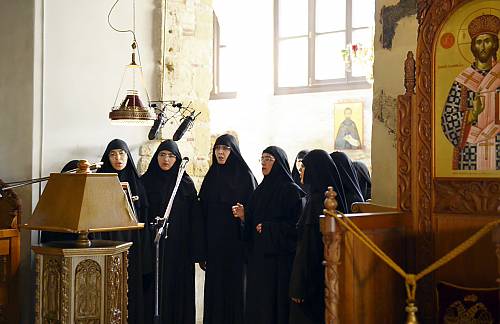 Nuns chanting at the Monastery of Saint Heraklidios in Politiko village, in the province of Nicosia, Cyprus
© Cyprus National Commission for UNESCO, 2018
In addition to its transmission in church, Byzantine chant is flourishing due to the dedication of experts and non-experts alike—including musicians, choir members, composers, musicologists, and scholars—who contribute to its study, performance, and dissemination.
Reprinted with minor edits from UNESCO's Intangible Cultural Heritage website. See source for original text and additional photos. 
Orthodoxy in Dialogue seeks to promote the free exchange of ideas by offering a wide range of perspectives on an unlimited variety of topics. Our decision to publish implies neither our agreement nor disagreement with an author, in whole or in part.
Click 

here 

to contribute to Orthodoxy in Dialogue's 3rd Annual Feed the Homeless on Christmas Campaign
This appeal ends on the first day of the Forefeast, December 20.